The Martial-Cavani conundrum: Who is the more reliable choice for title hopefuls Man Utd?
Anthony Martial ended a goal drought against Southampton, but would Edinson Cavani be the more reliable first-choice pick in a title race?
Anthony Martial's Manchester United debut is one of the club's most memorable in the modern era of the Premier League. His jinking run left Liverpool's defence in knots before he coolly slotted into the bottom-right corner to help secure a 3-1 win over his new team's bitter rivals.
It was a stunning start and one that promised much for the future, producing the ultimate response to the many pundits who had questioned his signing and reported £36million transfer fee.
Yet, five and a half years on, it's difficult to say Martial's debut resembles a microcosm of his United career, with those spectacular moments remaining fleeting rather than developing into sustained excellence.
Of course, 2019-20 was surely the closest he's come to finding consistency as he scored 17 times in the Premier League. Finally, the penny had seemingly dropped and Martial was developing the decisiveness he had previously teased in flashes.
But 2020-21 has been largely disappointing for the Frenchman and has fans wondering if he is their best option. Was last season just another false dawn?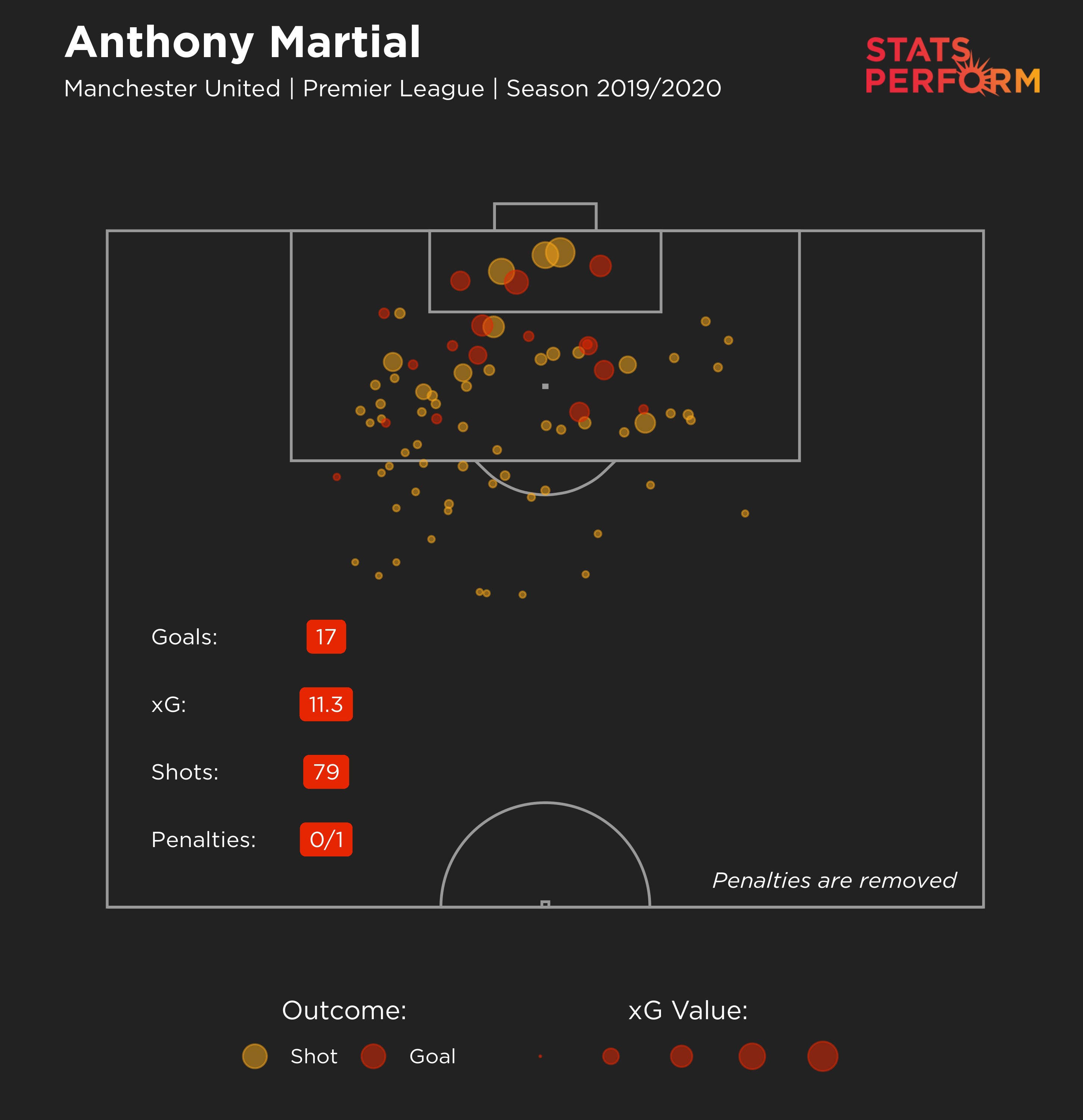 THE REGRESSION
United fans will hope Martial's lively appearance off the bench in Tuesday's remarkable 9-0 demolition of Southampton is a sign of things to come – he got two goals and also won a penalty, albeit a questionable one.
There was certainly plenty to like about his performance, with both goals coming from the central zone of the penalty area, and the first saw him use his strength to see off a defender prior to finding the net. For a player whose suitability as a number nine has been questioned, it was a promising development.
But while there were undoubtedly reasons for optimism, we cannot disregard his previous struggles this season on the basis of that 9-0 win. Saints became subjugated essentially as soon as Alexandre Jankewitz was sent off after 82 seconds, and Martial's second came when Ralph Hasenhuttl's side were down to nine men.
Before Tuesday, Martial's shot conversion rate this season (5.9 per cent) had been lower than any of his previous campaigns with United. Even when you take into consideration his two latest goals, which lifts it to 13.3 per cent, he's still well down on 2019-20 (21.3 per cent) and 2018-19 (25.6 per cent).
His issues don't appear to come down to a lack of clear opportunities either, as prior to Tuesday he was actually averaging roughly the same amount of big chances per 90 minutes this season as in 2019-20 (0.7). However, he had been proving more wasteful from such situations, with Martial's big chance conversion rate of 0.15 per game down from 0.3.
Martial particularly excelled with regards to expected goals in 2019-20, with his xG rating of 11.3 meaning he netted six more than he would have been expected to – by comparison, ahead of the Southampton win, he had two goals from an xG of 4.5.
Positionally, Martial has generally occupied the same spaces as he did in 2019-20 but given his emphatic out-performing of xG was seemingly unsustainable, perhaps this is part of the problem.
A NEW THREAT
Edinson Cavani's signing, while initially criticised as a knee-jerk or 'panic' acquisition, was always likely to be a positive move for United as it offered them a new dynamic in attack. Martial may like to play at being a number nine, he may wear that shirt, but his characteristics are much different to those of Cavani.
Even though Martial has been regularly deployed as the focal point of Ole Gunnar Solskjaer's attack over the past 18 months, his positional maps still prove a predilection to operate from the left.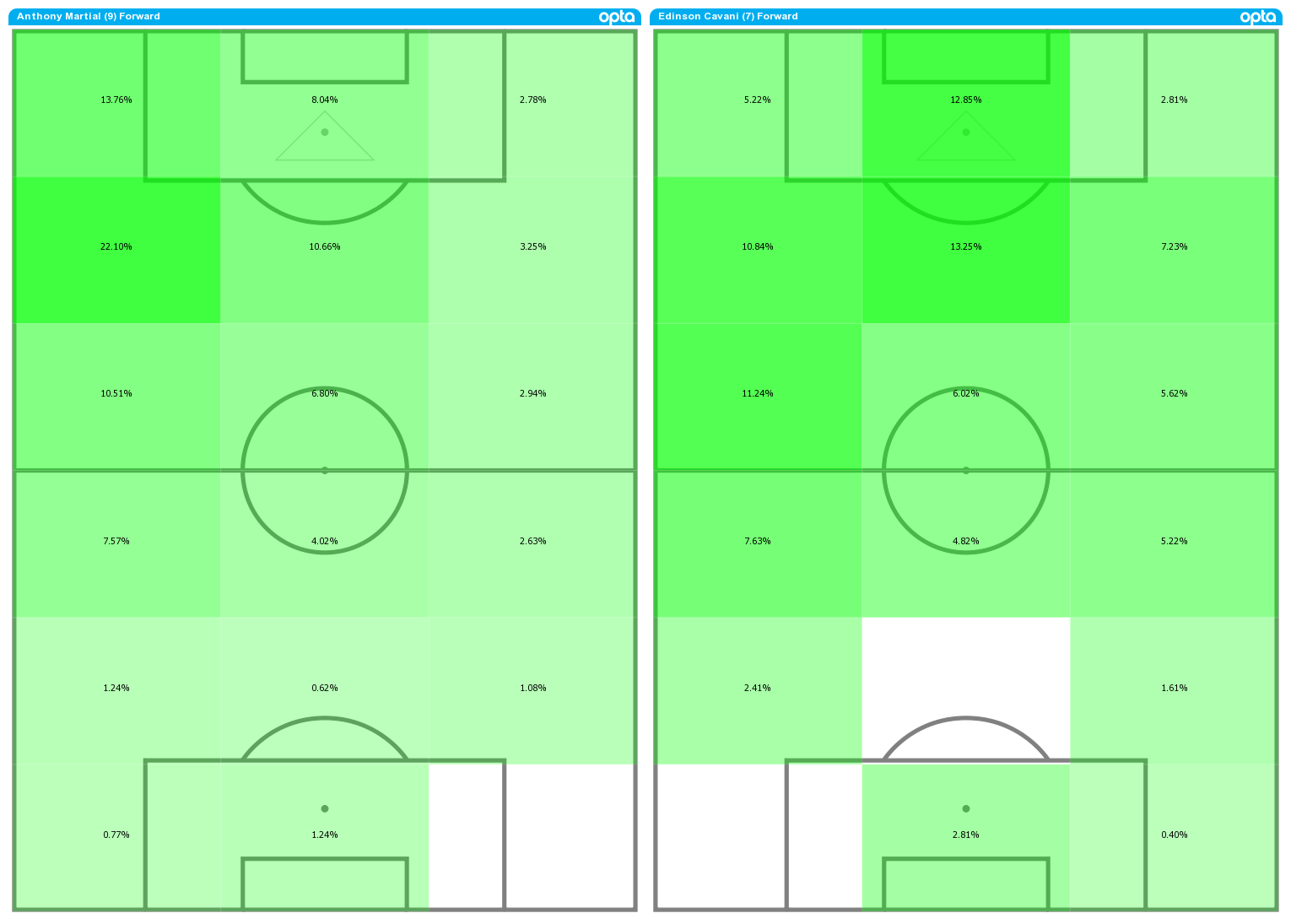 Being involved more towards the left than the right flank is understandable in one sense, given United carry greater threat there with Luke Shaw than they do on the opposite side with Aaron Wan-Bissaka.
But Cavani takes up central positions with greater regularity than Martial. As such, the Uruguayan's far greater goal frequency this term (one every 133 minutes, compared to one every 312.5 minutes for Martial) cannot be a surprise, even if Martial actually averages more touches of the ball in the area (7.6 per 90 mins, to 5.3).
There is also a school of thought that Martial's mentality becomes affected when he feels threatened. It's not a secret that he had long seen his future as a central striker, but Louis van Gaal felt he was better suited to playing on the flank and Jose Mourinho openly questioned his suitability to the number nine role.
The latter's arrival in 2016 coincided with the signing of Zlatan Ibrahimovic, who essentially killed Martial's chances of playing as a striker, and his form subsequently suffered almost across the board after a positive first season.
Although he showed signs of improvement in 2017-18 despite Romelu Lukaku's arrival, Martial was no more productive than when he first joined.
And now there's Cavani, who is out-scoring Martial five to four despite playing less than half the number of minutes in the Premier League this season. It seems he's treading on Martial's toes rather than keeping him on them.
CAVANI THE MORE DEPENDABLE OPTION?
For what it's worth, Martial's dip in form hasn't impacted United massively – after all, they've a better xG differential this term (5.7) than they did in 2019-20 (3.2) and are challenging at the top of the table, something they haven't really managed since Alex Ferguson's retirement.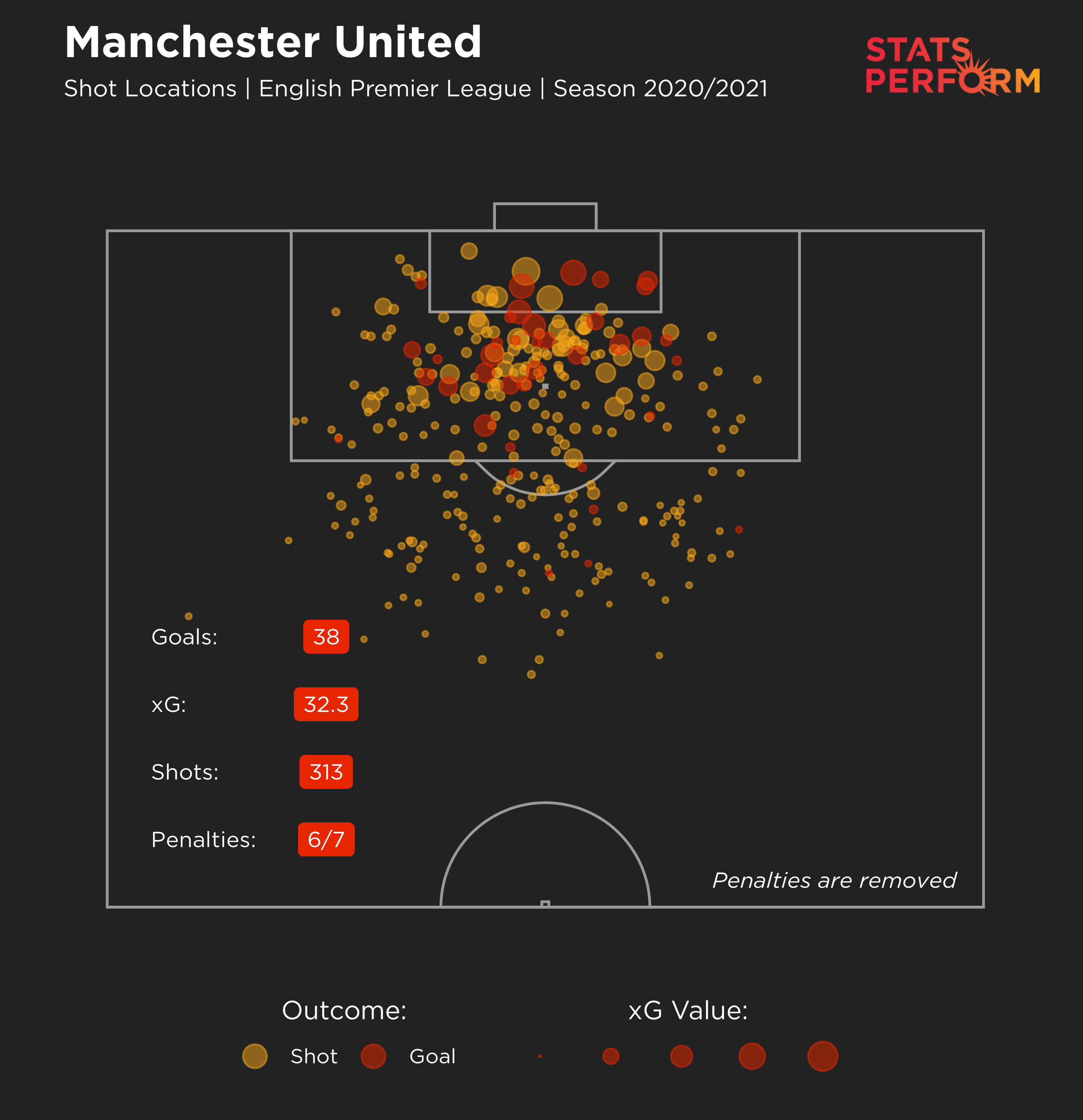 Tuesday's mauling of Southampton might have been just what the doctor ordered for Martial, who had previously gone a month without a goal in all competitions, though few would have any complaints if Cavani was just starting out on a run as United's first choice in attack.
He may not possess the pace of Martial or indeed his ability on the ball, but he has proven more clinical as evidenced by his greater conversion rate of big chances (45.4 per cent, over 33.3), such as his nonchalant header against Southampton.
The experienced Uruguay international is also being presented with more big chances (1.5 per 90 minutes) than Martial (0.9), suggesting Cavani boasts a greater ability to create openings with his movement.
It is, of course, always handy to have players with varying skillsets and it offers Solskjaer the ability to choose individuals based on his set-up or the opposition on a given day.
But on current form, the more consistent talents of Cavani might just offer United the greater reliability they need if they're to sustain a title challenge.
At the very least, he would seem a smart choice on Saturday if fit having already netted three times in two games for United against Everton.