Talking Point: How Wolves' system proves a problem for slacking City
Using advanced Opta metrics, we look at how Manchester City have struggled against Wolves and similar opponents.
Manchester City's latest Premier League title pursuit belatedly gets under way at Wolves on Monday.
Prior Champions League involvement saw Pep Guardiola's men sit out the opening weekend of the new season, while their meeting with Wolves is the final fixture of the second round.
City's rivals will have played twice by the time Kevin De Bruyne and Co take to the field, meaning they will be desperate for a fast start at Molineux.
But Wolves beat City twice last term as their championship defence came off the rails.
Do Guardiola's side have a problem with opponents like the high-flying Wanderers? Opta advanced metrics delve deeper...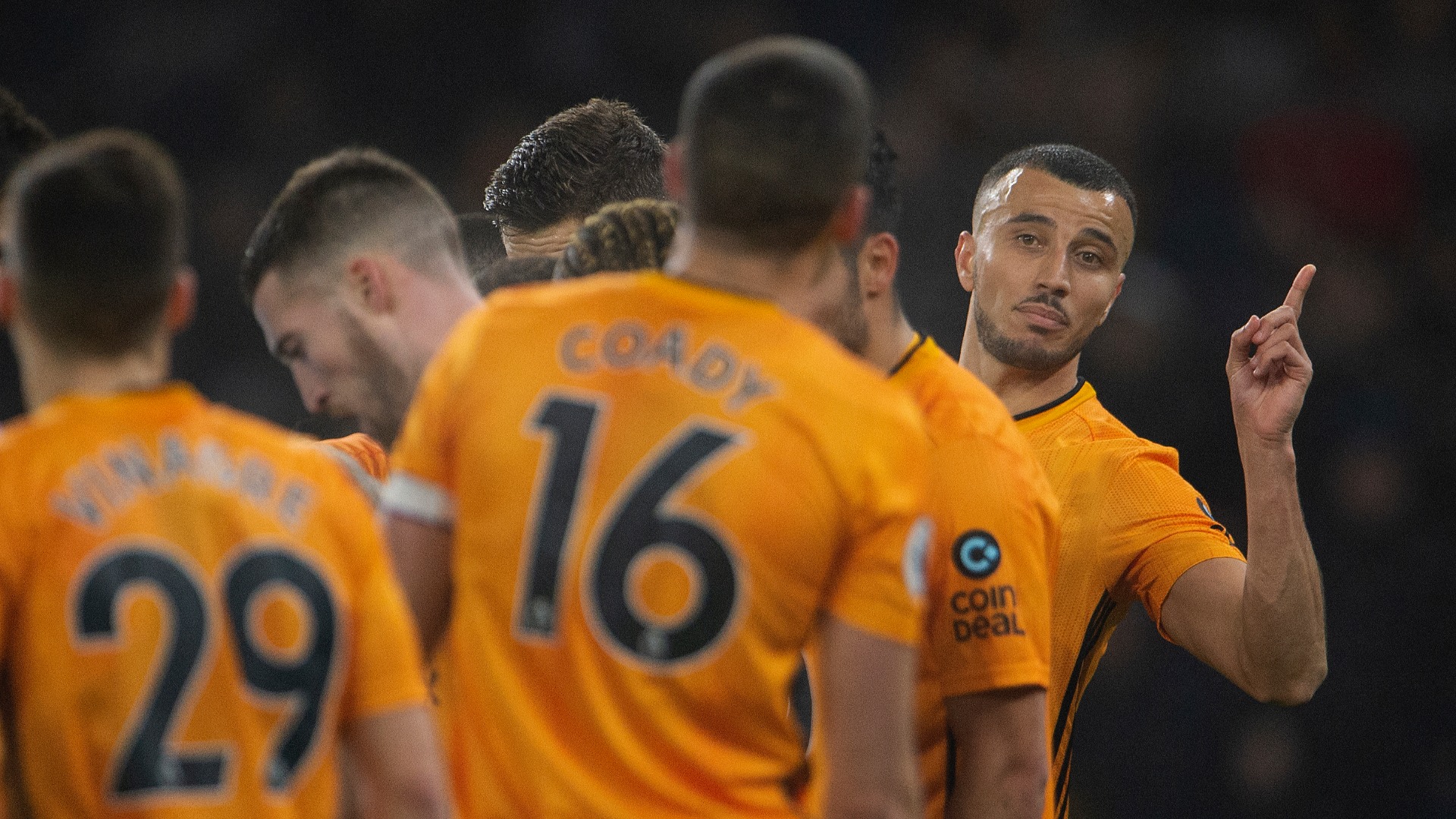 ARE THREE-MAN DEFENCES AN ISSUE?
Wolves have regularly lined up with a back three since their promotion to the Premier League two years ago, even if the shape in front of that defence occasionally changes.
The ever-present Conor Coady was flanked by Willy Boly and Romain Saiss in a 3-5-2 at the Etihad last term, while Leander Dendoncker joined Coady and Saiss in the back line for a 3-4-3 for the return fixture.
Nuno Espirito Santo's side came out on top in both matches, yet of the nine occasions City faced a three-man defence between the start of last season and January 26, those were the only two defeats for Guardiola's men. They also drew with Atalanta's 3-4-1-2.
However, in the remainder of the season, that statistic was turned on its head. Other teams followed Wolves' lead and City struggled to break down their opponents.
Manchester United's 3-4-1-2 twice toppled City, while Arsenal's 3-4-3 and Lyon's 3-5-2 also secured victories. City scored only once across those four matches and were regularly caught out on the counter.
A 1-0 win at Leicester City - who played 3-5-2 - on February 22 represents the last time City beat a team using a back three.
WHAT HAPPENED TO CITY'S PRESS?
Such systems have been particularly prevalent in the Premier League since Antonio Conte's Chelsea won the title in 2016-17, so why are City - champions in 2017-18 and 2018-19 - suddenly struggling?
The season before last, when Guardiola's men held off a challenge from Liverpool, City's pressing clearly led the way.
They ranked top in the division for high turnovers within 40 metres of an opponent's goal (217), high turnovers that led to either shots (43) or goals (nine), pressed sequences where opponents managed three or fewer passes within 40 metres of their own goal (578), the average starting position of their open play attacks (46.1m up the field) and opposition passes allowed per defensive action (10).
Teams like Wolves, who could defend in numbers and aim to counter, would quickly find sky blue shirts in their faces as they tried to launch attacks.
But while City actually improved in some respects in 2019-20, rivals also got to grips with the system. City had 252 high turnovers but were only joint-best in the Premier League. An increase to 587 pressed sequences was merely the third highest tally.
One new area for concern as City pressed their opponents was an inability to capitalise on their high turnovers, meanwhile, scoring only six times despite creating 65 shots.
And now facing an effective press, City increasingly committed costly mistakes at the back. There were 21 defensive errors that led to shots last season, up from 15 the previous campaign, while the number that ended in goals rose from two to a worrying seven.
The defeats to Wolves were littered with loose passes and rash decisions. In the 3-2 at Molineux, Ederson was sent off early and then Raheem Sterling and Benjamin Mendy each lost possession prior to goals.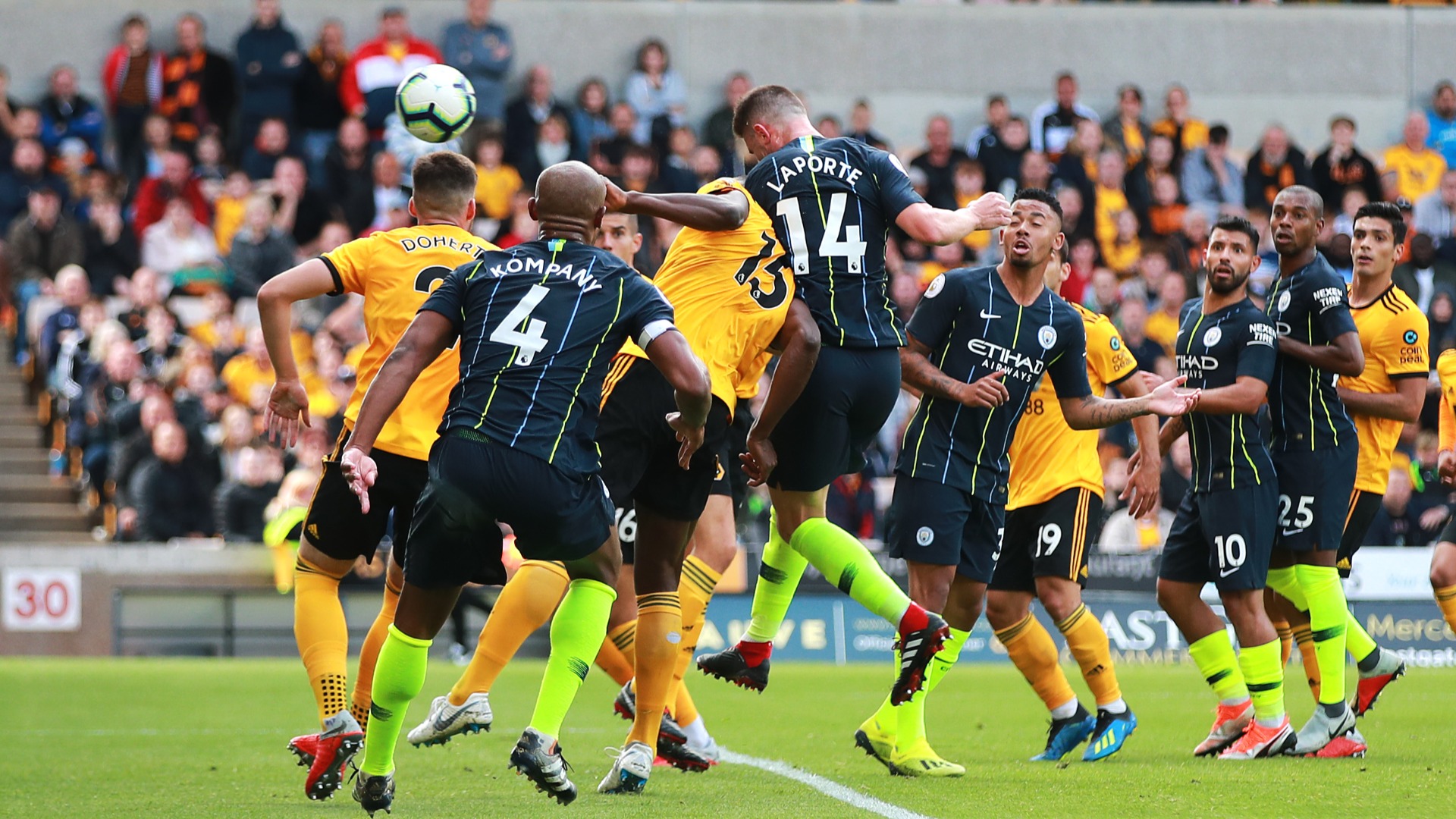 IS AYMERIC LAPORTE THE KEY?
A calming presence at the back as well as an excellent defender, Aymeric Laporte might prove key to these tricky encounters for City.
The Frenchman was missing for both matches against Wolves, defeats that contribute to a tally of eight in the league when he has been absent since joining the club. By contrast, City have only lost six Premier League matches with Laporte in the side.
His winning percentage is a remarkable 84.7, compared to 61.3 for the team when he is out. City earn 2.6 points per game with Laporte and 2.0 without him.
Laporte scored an equaliser at Wolves in 2018-19, although City could not go on to win on that occasion in the first of a series of well-matched meetings between the sides.
Guardiola has won just 20 per cent - one of five - games against Nuno, his lowest such record against any one coach.
Yet City are not the only elite team to struggle against Wolves, who have taken 28 points over 24 clashes with the 'top six' since returning, a haul only bettered by Liverpool and City themselves. Guardiola's side have been warned.