Solskjaer not sure 'pretty boy' Greenwood can play centre-forward
Mason Greenwood could end up as a striker in the long term but only if he is willing to risk his good looks, says Ole Gunnar Solskjaer.
Solskjaer does not know whether Greenwood fancies the hard knocks of being a career centre-forward.
Greenwood is in line to make his 100th Manchester United appearance when Solskjaer's side look to complete the job in their UEFA Europa League semi-final against Roma, taking a hefty 6-2 lead to the Stadio Olimpico.
The 19-year-old forward came off the bench to complete the rout at Old Trafford last week before being denied the chance to continue that form when fan protests saw last weekend's scheduled meeting with Liverpool postponed.
Greenwood has played most of his football over the past two seasons as a right-winger, but Solskjaer cautioned a keen eye for goal is not the only attribute needed when it comes to being a specialist striker.
"The Liverpool game was going to be his 100th game and we spoke about getting the winner in that," he said.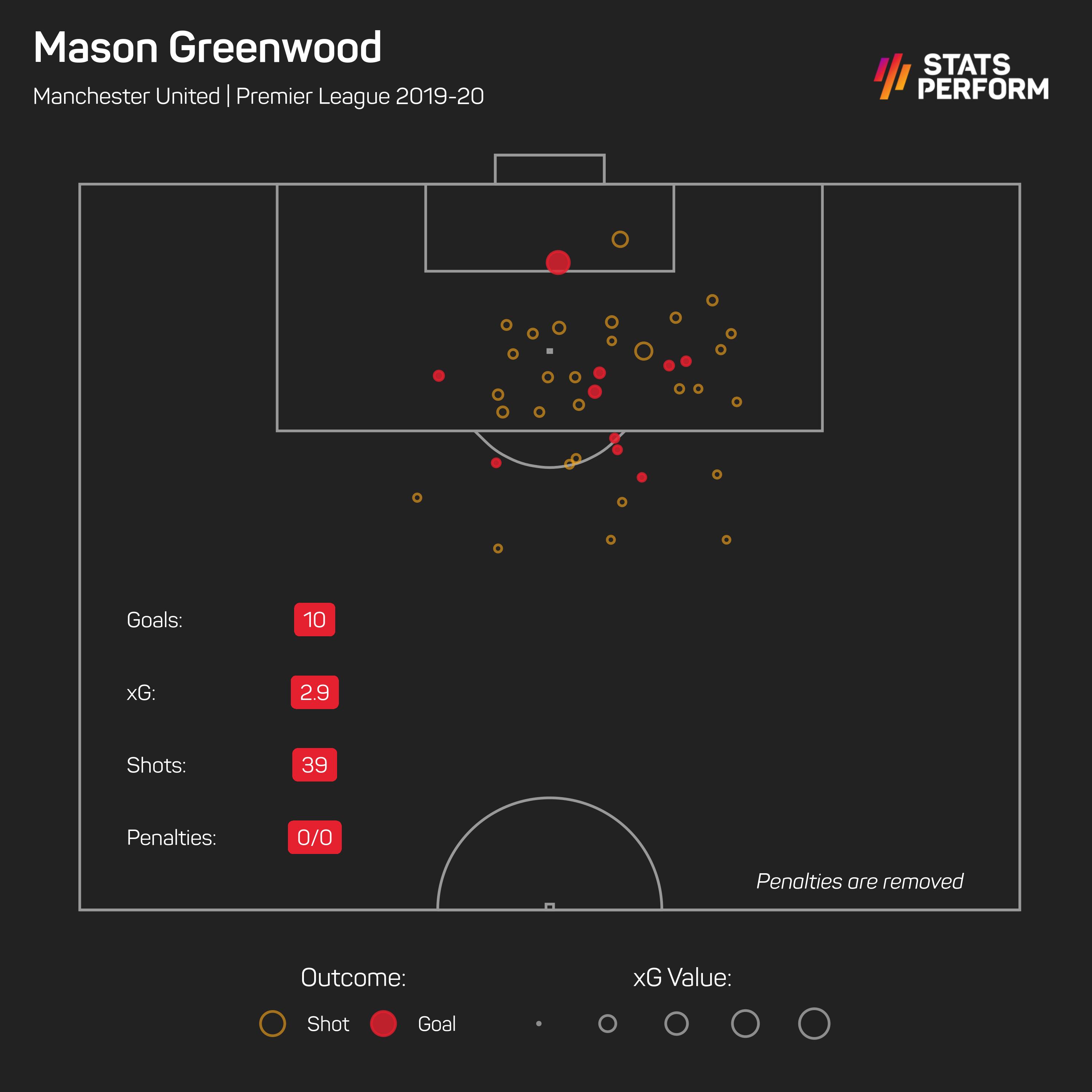 "We've spoken about whether he's going to be wide right or be a number nine, because you've got to stick your head in there.
"He's a pretty boy and I'm not sure if he's going to do that.
"Keep doing what he does, he's got a very bright future, I'm sure of that."
Greenwood scored 17 goals in all competitions for United in 2019-20, equalling the best season by a teenager in the club's history – level with George Best (1965-66), Brian Kidd (1967-68) and Wayne Rooney (2004-05).
The going has been tougher this time around, with 10 goals in 46 games across all competitions.
A look at Opta's expected goals (xG) figures for Greenwood show a sharp drop-off in his Premier League finishing.
Last term, his 10 league goals came from efforts with a combined xG value of 2.9 (39 shots), a huge over-performance.
In 2020-21, he has five top-flight goals – a shade over an xG of 4.6 (56 shots).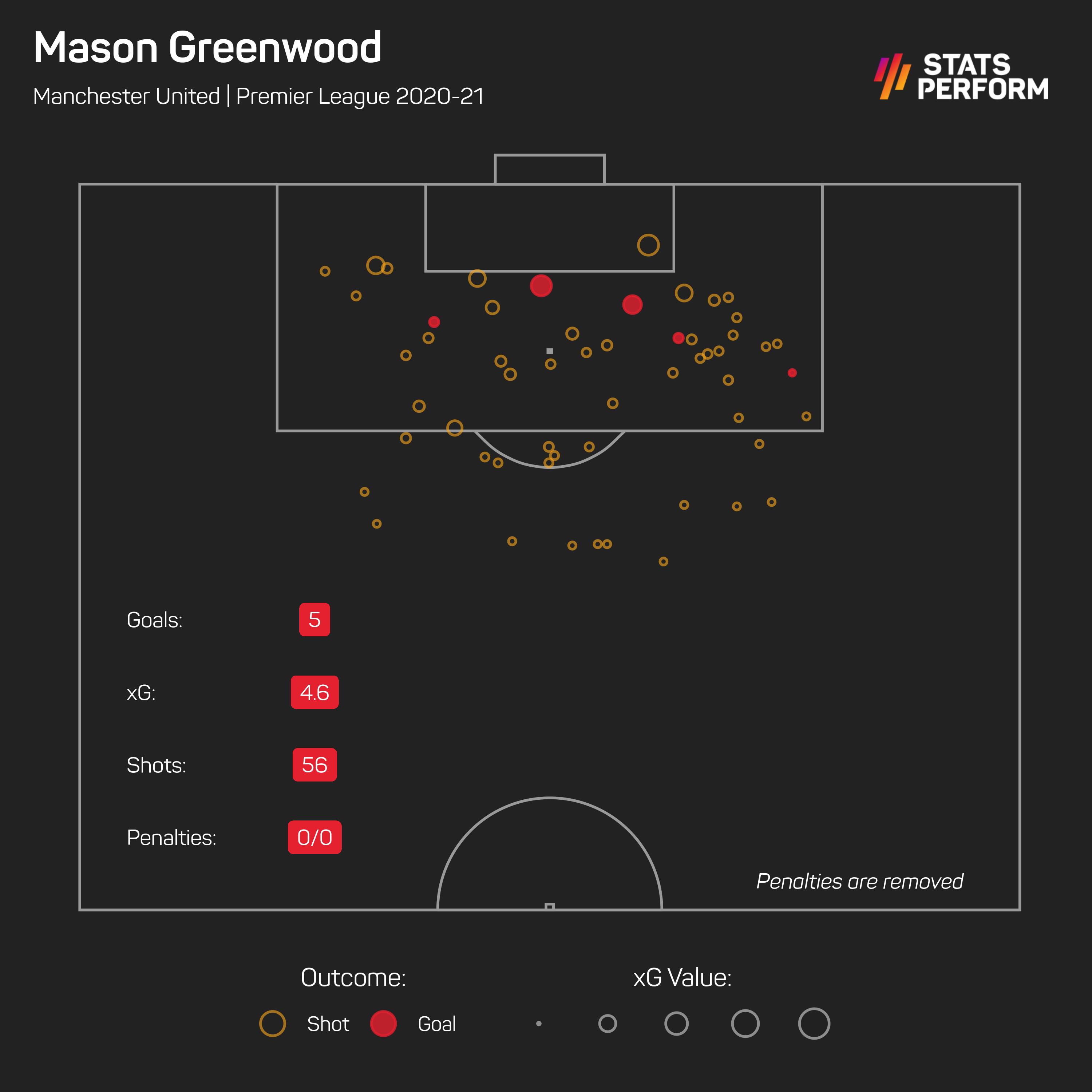 United great Gary Neville believes Edinson Cavani committing to another year at Old Trafford would be beneficial for Greenwood and Marcus Rashford, and Solskjaer gave a cautiously positive update on talks with the experienced Uruguayan.
"We've had some good chats lately and even though the decision is still in his court, I'm still hopeful," he said, Cavani's masterful showing of two goals and two assists to demolish Roma still fresh in the memory.
"And maybe even more so when you saw him on Thursday against Rome and telling him 'when you do that in front of the Stretford End [with fans in attendance], that's magic'."
United's attacking options will be slightly diminished in the Italian capital, with Dan James "still out for a little while", according to his manager.
Solskjaer added that Anthony Martial could feature again for United this season, despite initial fears a knee injury suffered on international duty with France would bring a premature end to his campaign.
"Anthony's looking good. He's just about started outside jogging, which is the first step on the rehab," he explained.
"He's done most of the work in the gym and to see him out there getting some fresh air is good. Hopefully we will see him before the season is out.
"He's supporting the team, he wants to be a part of the final and he's working hard to be available before that."