Diego Maradona's World Cup records with Argentina may never be matched
Diego Maradona's remarkable all-round World Cup record is one which may never be matched.
The Argentina legend died at the age of 60 on Wednesday, prompting tributes from across the football world.
Reflections of his career will see so many of Maradona's magical moments highlighted, though perhaps most memorable are his 1986 exploits in Mexico, a tournament which gave Argentina their most recent World Cup success.
Opta statistics help to illustrate Maradona's remarkable performances on football's biggest stage and highlight how difficult his legacy at the tournament will be for a modern player to match.
Maradona appeared in four successive World Cups for Argentina between the ages of 21 and 33, playing his first in 1982 before going on to represent his country in 1986, 1990 and 1994.
He ended his Argentina career having made 91 appearances and it was clear he thrived on the big stage - nearly one in four of those caps occurred during World Cups, where he enjoyed a win record in excess of 50 per cent.
He holds the record for the most number of appearances in the competition by an Argentine player (21), just ahead of Javier Mascherano (20) and Lionel Messi (19).
Maradona is one of just three players to captain his country in two different men's World Cup finals, having done so in 1990 as well as the 1986 tournament, where he stole the show.
The only other two players to achieve the feat are Karl-Heinz Rummenigge (1982 and 1986) and Dunga, who did so in successive tournaments after Maradona in 1994 and 1998.
The exploits of Maradona in 1986 will be hard to top. He had 10 goal involvements (five goals and five assists) in seven games and no player has done that since at a single edition of a World Cup.
No other player at the tournament in Mexico managed more than six goal involvements, highlighting his level of superiority.
Only Gabriel Batistuta (10) has scored more World Cup goals for Argentina than Maradona, who ended his international career with a total of eight.
Maradona is also one of only three Argentina players to have scored in three separate World Cups (1982, 1986 and 1994), alongside Messi (2006, 2014 and 2018) and Batistuta (1994, 1998, and 2002).
As well as eight goals, Maradona had eight assists in his 21 appearances over the four tournaments he played in. Across all World Cups staged since 1966, no other player has accumulated as many.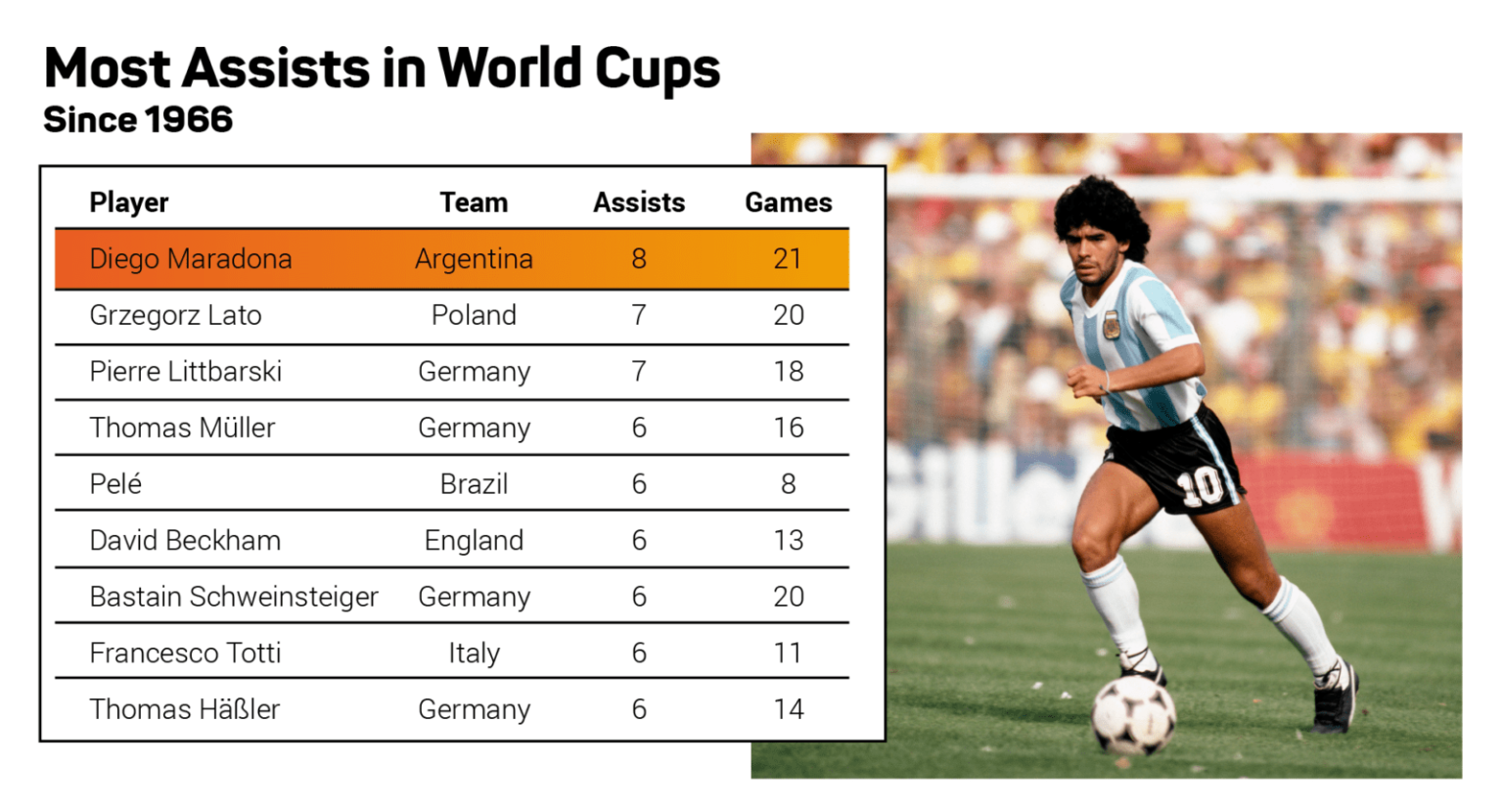 Maradona won 152 free kicks across his four World Cups, the most in tournament history.
That is more than twice as many fouls won by any other player, with Brazil's Jairzinho ranking second with 64.
On average he won more than seven fouls per game in his World Cup career, or one every 12 minutes and 46 seconds.
He was the most fouled player across three consecutive competitions from 1982 to 1990, with this total from 1986 (54) remaining the highest single figure from one World Cup.
Amazingly, his individual totals from 1990 (50) and 1982 (36 from just five games) also rank individually as second and third all time.
As well as being the most fouled player, Maradona has also provoked more cards than any other player at World Cups since yellow and red cards were first introduced in 1970.
Fouls on him resulted in 12 cards being dished out, ahead of Arjen Robben (11) for the most in tournament history.
Though as well as forcing his opponents to pick up bookings, Maradona was also prone to being cautioned himself – he is the only player to be booked in two separate World Cup finals (1986 and 1990).
In the 1986 tournament, he played a part in an astonishing 56 per cent of his team's 101 shots. He had 30 of them himself, and played the final pass on 27 other occasions.
The only game where he failed to score or assist at least one goal was in the round of 16 match against Uruguay, but even then he still managed to hit the woodwork from a stunning direct free-kick.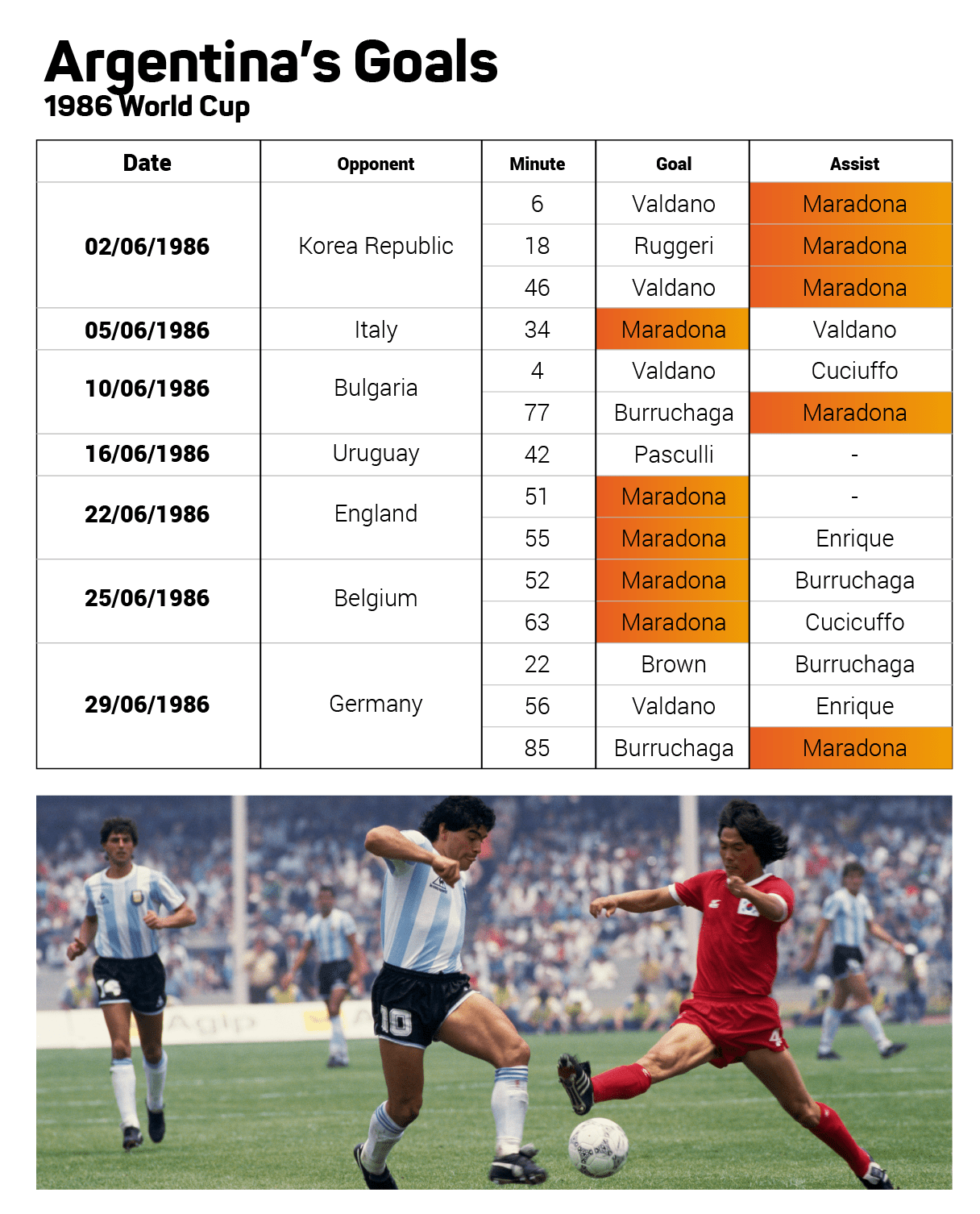 He led the assist rankings with five at Mexico 86 and with five goals he was the second highest scorer behind Gary Lineker, who netted six.
Maradona remains the only player since 1966 to have to have scored and assisted as many as five goals in a single World Cup, a record that looks particularly tough to beat.
Famed for his dribbling prowess, no player has beaten an opponent more times in a single World Cup than Maradona did in 1986.
The attacker successfully took the ball around an opponent 53 times, averaging eight per game. Four came in just one single move, the goal of the century against England in the quarter-finals.
He travelled 51 metres with the ball in 10 seconds to net one of only four World Cup goals since 1966 where a player travelled as far before scoring.
Jarizinho had 47 successful take-ons in 1970, while the closest anyone has come to breaking that Maradona record since his retirement was when Messi had 46 in 2014 and Eden Hazard 40 in 2018.
The stats from that match with England sum up Maradona's overall impact in Mexico. He attempted the most shots of any player on the pitch (seven), the most shots on target (three), most chances created (five) and most completed dribbles (12), as well as winning seven fouls.
Until 2018, Maradona also held the record for the most dribbles (105) in World Cup matches, a number which was fittingly eclipsed by his compatriot Messi (110).