Can Pogba, Fernandes and Van de Beek play together for Man Utd?
Donny van de Beek is yet to start a Premier League match. Can he operate alongside Paul Pogba and Bruno Fernandes, or not?
"It's nice for some commentators to have a little go," said Ole Gunnar Solskjaer as another news conference turned into a discussion about a player not in his recent plans.
The "commentator" in question was probably Marco van Basten, the Netherlands and Ajax great who is perhaps the most authoritative voice wondering aloud why Donny van de Beek can't get a game for Manchester United.
Since signing from Ajax for an initial £34.7million in September, Van de Beek has played 61 minutes in England's top flight, all of them as a substitute. Even with Paul Pogba restricted largely to the role of impact-sub, with post-COVID-19 fitness concerns still a problem, Van de Beek appears below Bruno Fernandes, Juan Mata, Scott McTominay and Fred in the midfield pecking order, and that's despite scoring a goal on his Old Trafford debut.
Solskjaer made it clear the Netherlands international will get his chance and he handed him a first start in all competitions against RB Leipzig on Wednesday. Perhaps that first league start will come this weekend against Arsenal; maybe Solskjaer will give in to curiosity and start Van de Beek, Pogba and Fernandes together.
Could such a system work?
TRIO TROUBLES
Part of Solskjaer's problem here is obvious: Van de Beek, Fernandes and Pogba are midfielders with similar technical qualities, so fitting them all in the same line-up is a challenge. Their average positions in league football last season, for instance, are all neatly within the centre circle.
The issue is heightened by Solskjaer's preferred formations.
Solskjaer tends to favour a 3-4-1-2, such as he did in the 2-1 win at Paris Saint-Germain, when United face stronger opponents who expect to have more possession. That formation allows Fernandes to play as a number 10 and speeds up the transitions to counter-attacks, but it also depends on ball-winners covering the ground behind him. Against PSG, that pairing was Fred and McTominay, and it worked well – they won six free-kicks and regained possession 14 times between them. Van de Beek came on with 88 minutes gone for a tiring Fernandes.
When Solskjaer switches to a 4-3-3 or 4-2-3-1, as is his preference for most Premier League matches, the stability of the midfield relies on at least one of Fred, McTominay or Nemanja Matic as the anchor while Pogba and Fernandes are given more freedom to roam. Should Van de Beek slot into this line-up, United would sacrifice a more defensive-minded player, which could put the back four at risk of runners bearing down on them, as was their undoing in home defeats to Crystal Palace and Tottenham.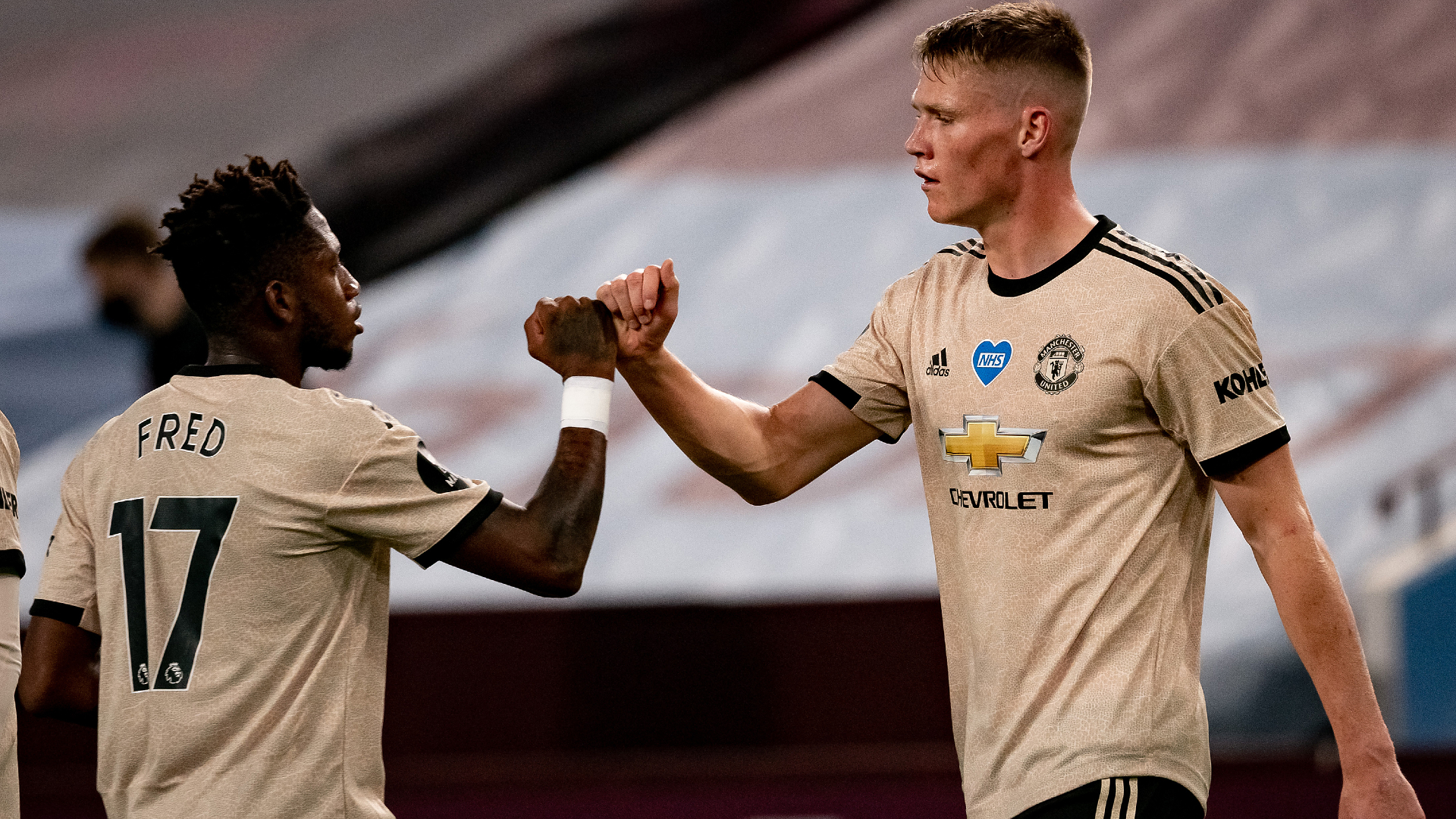 UP FOR THE CHALLENGE
So prevails the conventional wisdom, anyway. But Van de Beek could be better suited to these systems than it appears if Solskjaer decides to be bold.
Van de Beek's attacking strengths are clear. Last season in the Eredivisie, he managed the same number of shots (44) as Fernandes did in the Premier League, at an average of 2.1 per game (down on Fernandes' 3.3, but higher than Pogba's 1.6).
In his 23 appearances, he got eight goals – again, level with Fernandes – and five assists from a hugely impressive 41 chances created. In terms of open play, Van de Beek outperformed Fernandes (1.7) with chances created on average per 90 minutes (1.9). His average passes in the opposition half were at 29.9, well down on Pogba (47.2) and Fernandes (45.6), but Van de Beek had well over double the number of touches in the opposition box per 90 (7.8) than either of his new team-mates.
That paints a picture of Van de Beek in a box-to-box role, one that would suit one side of a 4-3-3 or a forward position in a 4-2-3-1 or 3-4-1-2. Where, then, would the defensive balance come from? Well, from Van de Beek.
His 46 Eredivisie tackles last season gave him an average of 2.2 per game, greater than Fernandes (1.7) or the deeper-lying Pogba (1.6). He also outperformed those two for interceptions (16) and possession won (111), although his average per 90 minutes for each were similar to Fernandes.
Van de Beek also averaged 42.7 passes per 90 minutes in the league in the 2019-20 season but with a higher accuracy than Fernandes (82.3 compared to 75.7). A player capable of winning back the ball and retaining it as he can would offer a sufficient level of defensive stability alongside Pogba and Fernandes, particularly with his positional nous, in games where United expect to control the ball. And Pogba is accomplished in a deeper role, anyway: he played 30 passes in his own half per 90 minutes in the league last season, and 47 in the opponents' half. He can influence proceedings at both ends by holding position while Van de Beek and Fernandes are given free rein, knowing the Dutchman will be willing to track back and cover.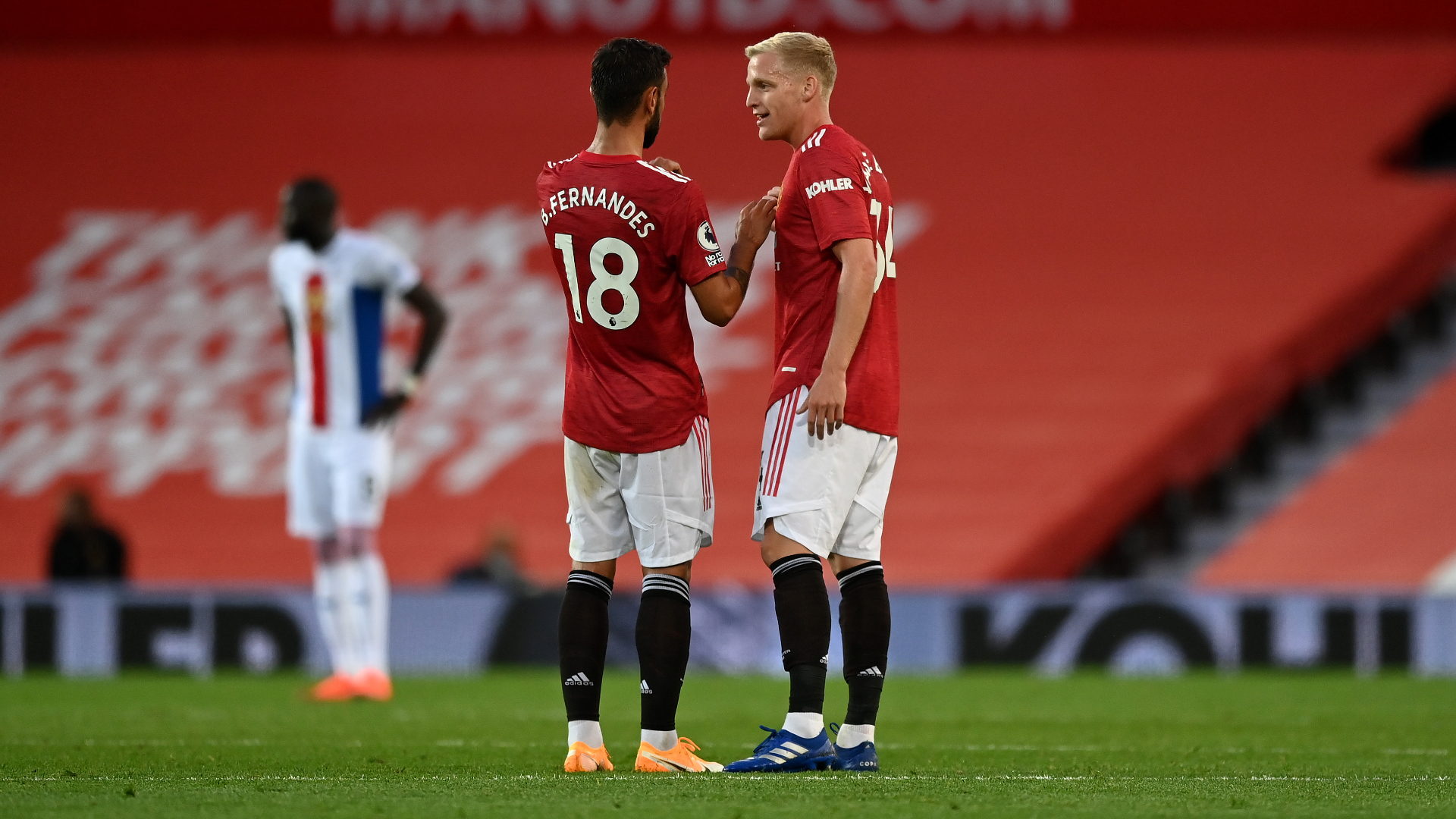 EXCHANGE POLICY
If a Pogba-Donny-Bruno set-up is to work, though, they need to start functioning together as a passing unit.
In the second half of last season, when Pogba was fit again and Fernandes firing after his January arrival, the duo combined effectively in United's league run-in. They exchanged 129 passes in 661 minutes on the pitch together, creating seven chances for each other and each providing an assist. Those are encouraging numbers from the early months of a partnership.
This season, though, they have exchanged 38 passes in 230 minutes, indicating a slight drop in their link play, and neither has yet created a goalscoring chance for the other.
Van de Beek has only made four passes to Fernandes and two to Pogba but, for a player to play just 61 minutes, that's not too surprising. It does, though, indicate the need for each to get used to the others' ways of working if a strong midfield trio is ever likely to be formed.
That said, of the seven passes Fernandes has ever played to Van de Beek in the Premier League, one created a goalscoring chance. If that ratio continues, there are strong odds Van de Beek will turn performances into regular goals and force Solskjaer's hand when it comes to his team sheet.